Molang, created by Hye-Ji Yoon, gained popularity first in Korea through instant messaging apps.  Following the success in social media networks, Molang organically spawned success in merchandise licensing with thousands of products currently available in Asia.
Millimages, a leading European animation production and distribution studio located in Paris, France, recognized that the Molang property would translate well to animation and has already produced 156 x 3'30 episodes in 2D HD.
Available on Disney Junior online since December 2015 and broadcast on Disney Junior since February 22nd, 2016, the series is sold to more than 200 countries worldwide.  Season 3 began airing Q4 2018. Season 4 is now in production.  Each Season contracted with Disney airs three years from first broadcast.
Airing daily and on weekends in the U.S. on the Disney Channel, Molang is the story of Molang, a gentle rabbit, and a scatterbrained best friend chick name Piu Piu.  They enjoy a unique friendship and share humorous and fun adventures together.  You can also watch Molang episodes 24/7 on the DisneyNOW App and on YouTube, Amazon Prime Video, PlayKids, Hulu, Kidstream, Kidoodle TV, Hopster and Vme.  AND NOW ALSO ON NETFLIX WORLDWIDE AS OF JULY 1, 2019!
Disney aired two Molang Specials in 2018 beginning with a Halloween Special followed by a Christmas Special.  A third Special airs Summer '19.
The over the top cuteness of the lead characters and the fact there is no dialogue allows this unique property to transcend demographics appealing to both preschoolers as well as teenagers.
Happiness, Friendship, Mutual Respect, and Solidarity are key elements of the episodes.
Social media presence is very strong.   Over 4.5 Billion views on Giphy with over 870 GIF uploads. Over 1.1 million follow on Facebook.
Categories available include games, puzzles, costumes, publishing, stationery, interactive, underwear, sleepwear, school supplies, accessories, party goods, consumables, home and room décor, jewelry, and tech accessories, as well as family dining promotions and advertising tie-ins.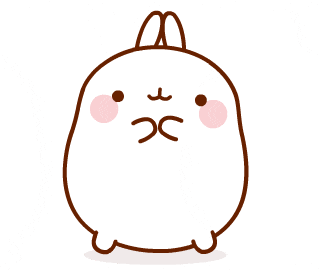 ©2019/Hayanori/Millimages